Description
This Warhammer Age of Sigmar: Warycry Starter Set by Games Workshop contains everything you need to start playing games of Warycry today!
Inside you'll find 2 warbands- the Iron Golems and Untamed Beasts, 2 types of Chaos beasts, fighter cards, ability cards, terrain, double sided 22×30″ game board, dice and more. You'll also receive the Warcry Core Book with all the rules, guidelines and scenarios for open, matched, narrative and campaign play. Models and terrain comes unpainted and requires assembly.
Tools, paint and glue sold separately.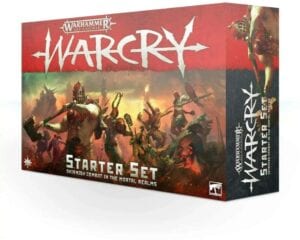 Only logged in customers who have purchased this product may leave a review.