Description
It is said that Post-humans are the next step in Mankind's evolution. Beings that live in cyberspace and that can be downloaded into artificial bodies when they want to interact at a physical level. A Posthuman can deploy many different bodies into the operations zone and jump from one to another, mutually giving itself backup to be able to complete the designated objectives.
A Posthumans box with the second generation of these troops, includes 4 miniatures, with the two different options for the Mk.4 Proxy and the Mk.5. A perfect box to complete the available options of the entire Posthumans range.
---
Box contains:
1x Proxy Mk.4 

(HMG)

1x Proxy Mk.4 

(Heavy Rocket Launcher)

1x Proxy Mk.5 (Forward Observer) 

(2 Submachine Guns)

1x Proxy Mk.5 (Marksmanship Lx) 

(Mk12)
Miniatures included in our products are provided unpainted. Assembly may also be required. Actual components may vary from those shown.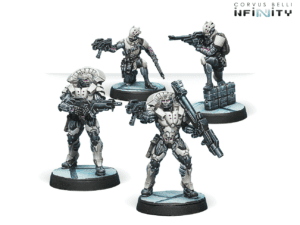 Only logged in customers who have purchased this product may leave a review.